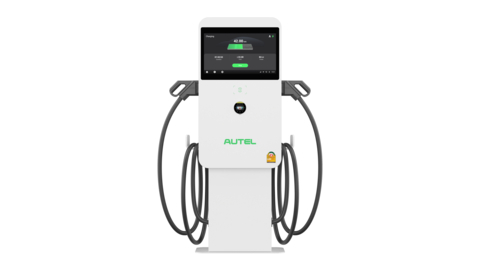 PAK KRET, Thailand–(BUSINESS WIRE)–Sep. 29, 2023
Autel Energy, a prominent leader in the electric vehicle (EV) charging industry, is pleased to announce that its MaxiCharger DC Compact 47KW has achieved the EGAT Label No. 5 with 3-star rating, the highest level of energy efficiency recognition for EV DC chargers below 60KW. This achievement demonstrates Autel Energy's commitment to delivering cutting-edge, energy-efficient charging solutions to the EV industry.
This press release features multimedia. View the full release here: https://www.businesswire.com/news/home/20230927178354/en/
MaxiCharger DC Compact awarded EGAT Label No. 5 with 3-star rating (Photo: Business Wire)
The recognition is awarded and presented by the Electricity Generating Authority of Thailand (EGAT) based on stringent energy efficiency criteria outlined in the Energy Efficiency Criteria for EV Chargers 2024. According to these criteria, DC chargers under 60KW must achieve an efficiency rating exceeding 93.738% to attain the coveted 3-star rating. Autel MaxiCharger DC Compact 47KW has surpassed these requirements, achieving an impressive maximum efficiency of 95.293% at full load.
The MaxiCharger DC Compact 47KW is designed with a focus on efficiency, speed, and convenience, making it the ideal choice for EV charging solutions:
Fast and Effective: Equipped with dual ports capable of providing up to 47KW of power, the MaxiCharger DC Compact can charge two vehicles simultaneously. It offers a remarkable 130 kilometers of range in just 30 minutes, making it an efficient solution for EV owners.
Compact Design: Designed for versatility, the MaxiCharger DC Compact is ultra-compact while delivering substantial DC power. Its flexible installation options cater to both fixed and mobile positioning, with low installation costs ensuring a rapid return on investment for site operators.
Smart Advertising and Communication Platform: The MaxiCharger DC Compact features a user-friendly 21.5-inch LCD touch screen powered by Android 10, enhancing the charging experience with targeted advertising placements. Site operators can effectively communicate, promote, or attract customers, generating new revenue streams.
"Obtaining the EGAT Label No. 5 with 3-star rating for our MaxiCharger DC Compact 47KW is a big milestone for Autel," said Henry He, Managing Sales Director of Autel Energy APAC. "We are proud to be a part of EGAT's Label No. 5 program dedicated to energy conservation and committed to developing more energy efficient solutions for the Thai market. By choosing Autel's MaxiCharger DC Compact 47KW, consumers and businesses can contribute to a greener, more sustainable future while enjoying the benefits of a high-performance EV charging solution."
View source version on businesswire.com: https://www.businesswire.com/news/home/20230927178354/en/
Contact:
Media Contact
Jia Hui Huang
marketing.jp@autel.com