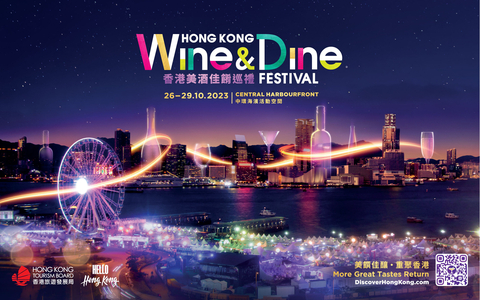 The month-long programme is headlined by Hong Kong's large-scale outdoor culinary event, Hong Kong Wine & Dine Festival, which returns to Victoria Harbour after a five-year hiatus
HONG KONG–(BUSINESS WIRE)–Sep. 20, 2023
This autumn, Hong Kong Tourism Board invites food and wine lovers from around the world to celebrate the joys of gastronomy in Asia's culinary capital with the return of the city's large-scale outdoor culinary event, Hong Kong Wine & Dine Festival. The four-day festival also kicks off a month-long series of vibrant nightlife happenings taking place citywide throughout November.
This press release features multimedia. View the full release here: https://www.businesswire.com/news/home/20230920907358/en/
Hong Kong Wine & Dine Festival returns in physical format (Graphic: Hong Kong Tourism Board)
It's back: Hong Kong Wine & Dine Festival returns in physical format
Taking place from 26–29 October at Victoria Harbour's Central Harbourfront Event Space, Hong Kong Wine & Dine Festival 2023 will be a four-day gourmet extravaganza backdropped by the iconic city skyline. This year's edition, which is the first physical edition of the event following a five-year hiatus, will boast nearly 300 booths showcasing global food and wine offerings, as well as a suite of interactive workshops for food lovers of all ages. Eligible overseas visitors will also receive a free cocktail on arrival.
Wine will naturally be a focus of the Festival, with the popular Major Country Pavilions showcasing makers from 36 countries around the world. This year, the spotlight will be on the classic vintages from France and Italy and emerging wine regions from Thailand, Moldova and Finland. In a Festival first, a dedicated display for Chinese Wine Discovery is being introduced, featuring wine merchants including Xige Estate and Chateau Mihope from Ningxia (Northwest China), Yunnan Red Wine & Spirits, and Shandong-based Mystic Island Winery.
The four-day event will allow visitors to indulge in a diverse array of global flavours in a single visit, with dishes ranging from punchy, flavour-filled street food and nostalgic local favourites to refined hotel delicacies by vendors including The Ritz-Carlton Hong Kong.
New to the Festival is Tasting Theatre, a number of hands-on workshops will also be on offer for visitors of all ages feeling inspired to roll up their sleeves and don an apron, with insightful and engaging sessions including 'Plant to Plate', 'Origin of the Coffee Bean', 'The Story of Rice' and more. Cooking demonstrations and workshops will be led by celebrity chef He Jiansheng from Shunde, Guangdong and award-winning Taiwanese baker Wu Pao-chun, who will join Hong Kong Wine & Dine Festival for the first time.
Taste Around Town takes over Hong Kong throughout November
Hong Kong Wine & Dine Festival 2023 will serve as a launching pad for a month of culinary celebrations taking place around Hong Kong. Throughout November, Taste Around Town will highlight over 300 of Hong Kong's destinations to eat and drink, with a month-long programme of exclusive discounts, limited-time menus and more that will reinforce Hong Kong's position as one of the world's great dining cities.
Chinese Master Chefs' Curation
Those seeking the latest and greatest in Chinese fine dining won't want to miss Chinese Master Chefs' Creation. From 1–30 November, gourmands can savour the new trends in Chinese cuisine prepared by some of the city's leading Chinese chefs. The lineup includes a host of Michelin-starred restaurants.
HK Bar Show
Hong Kong's world-class cocktail scene will also be in the spotlight with a number of bars around the city offering specially crafted Hong Kong-inspired libations. Cocktail lovers will be invited to discover limited-time Hong Kong-inspired cocktails, creations by guest mixologists and live entertainment at over 60 bars around the city, including a number that recently appeared on Asia's 50 Best Bars.
Sip & Savour in LKF
Foodies are invited to enjoy 15% off limited-time menu items prepared by some of Lan Kwai Fong's top chefs and mixologists. Indulge in special tasting menus and wine-pairing dinners at restaurants in one of Hong Kong's best loved entertainment precincts, with 20 participating venues including Foxglove and Bombay Dreams, with some also featuring live entertainment to elevate the experience.
Chill E.A.T. – Everything About Taste
This month-long series of multi-dimensional dining events will see over 200 restaurants citywide, provide a platform for rising stars of the culinary world, present sustainable, seaview and immersive dining experiences and offer up to 30% off special menus created exclusively for Taste Around Town.
For more details of Hong Kong Wine & Dine Festival 2023 – and for more ways to experience Hong Kong's world-class gastronomy and nightlife landscape, please visit the HKTB website: DiscoverHongKong.com/WineDineFestival
Members of the media can download photos from the following link:
https://assetlibrary.hktb.com/assetbank-hktb/action/browseItems?categoryId=1217&categoryTypeId=2&cachedCriteria=1
For more information, please go to:

Website

Facebook

Instagram

Twitter

YouTube

WeChat微信

hktbwx

Weibo微博

香港旅游发展局 @hktb

Tik Tok抖音
View source version on businesswire.com: https://www.businesswire.com/news/home/20230920907358/en/
Contact:
For media enquiries:
Ms. Holly Chan
Senior Manager, Communications
holly.chan@hktb.com
+852 2807 6206
Mr. Cameron Tong
Manager, Communications
cameron.tong@hktb.com
+852 2807 6367