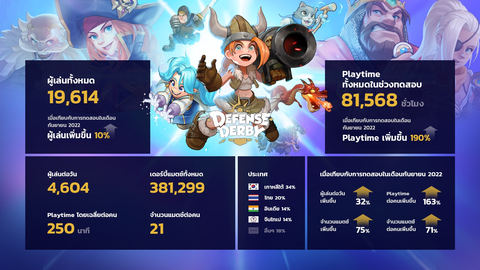 Total playtime is nearly three times higher than last year's test to record 81,500 hours
Making a last spurt towards releasing the game globally in the third quarter of this year
SEOUL, South Korea–(BUSINESS WIRE)–May. 31, 2023
RisingWings, an independent studio of KRAFTON, Inc., released the early access test records for its real-time strategy defense mobile game "Defense Derby".
This press release features multimedia. View the full release here: https://www.businesswire.com/news/home/20230526005132/en/
KRAFTON Revealed the Early Access Test Records of 'Defense Derby' (Photo: Business Wire)
The early access test lasted from April 27 to May 11 in Korea, Thailand, Taiwan, and India. It showcases a new system and mode like "Guardian's Journey", "Guardian Level" and "Derby Free Fight – Mirror Match", which were not available in last year's global pre-release test version. The test made improvement in the overall content and convenience to get a great response from domestic and overseas users.
19,600 users participated in the early access test that took place for about two weeks. Total playtime was 81,500 hours, which is nearly three times higher than last year's global pre-release test. The number of times the core play mode called "Derby Mode (PvP)" was played also increased. During the test period, the Derby Mode was played about 381,000 times and the number of times the Derby Mode was played on average per person was 21 times, showing a strong preference of this mode.
The users who participated in the early access test expressed their satisfaction with the game in the survey, showing a game satisfaction score of 4.6 out of 5. Most users gave positive reviews. Users chose "Collecting and upgrading/leveling up Heroes and Units" as the most engaging feature of the game, followed by "Derby Mode", "PvE content" and "Progressing through the Guardian's Journey". Aside from these, users also picked "Scouting Units", which leads players to guess the opponents' next move and make a bold attempt, as Defense Derby's unique fun element.
"Defense Derby" is in development to be released in the third quarter of this year. Please visit Defense Derby Facebook and YouTube Channel for more details.
Defense Derby Facebook https://www.facebook.com/DefenseDerby.THAILAND
Defense Derby YouTube https://www.youtube.com/@defensederby
View source version on businesswire.com: https://www.businesswire.com/news/home/20230526005132/en/
Contact:
KRAFTON
Jihyun Park
jihyun.park@krafton.com