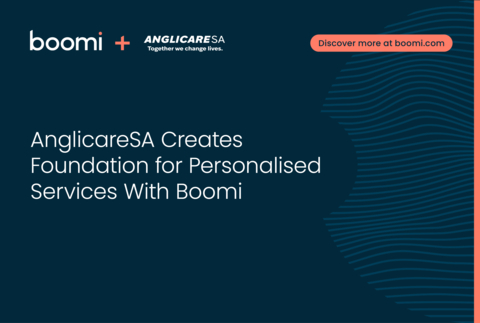 South Australian not-for-profit reduces integration times by 30 per cent with Boomi's award-winning integration platform. Boomi replaces Microsoft Azure Integration Services as AnglicareSA works towards single customer view across 62,500 constituents
AnglicareSA joins approximately 20,000 organisations around the world in selecting Boomi's category-leading integration platform as a service (iPaaS) for better business outcomes
SYDNEY–(BUSINESS WIRE)–Sep. 28, 2023
Boomi™, the intelligent connectivity and automation leader, today announced not-for-profit (NFP) AnglicareSA has chosen the Boomi Platform to pave the way to improve personalised services by centralising its data to better understand the needs of the 62,500 constituents it supports.
This press release features multimedia. View the full release here: https://www.businesswire.com/news/home/20230918877272/en/
AnglicareSA Creates Foundation for Personalised Services With Boomi (Graphic: Business Wire)
AnglicareSA has provided a diverse range of programs – including housing, National Disability Insurance Scheme (NDIS) services, Aboriginal services, aged care, foster care, emergency assistance, and financial counselling – to South Australians for more than 150 years. This required managing and running dozens of systems and applications, with disconnected data across cloud and on-premises environments. After evaluating several options, AnglicareSA selected the Boomi Platform to integrate its technology investments and ensure information is available to its 1,800 employees and volunteers when they need it.
"Delivering diverse services requires us to have diverse systems – systems that weren't designed to communicate with one another. This left us with data inconsistencies and made it difficult to understand the constituents who rely on us," said Brett Rowe, Manager for Application Support at AnglicareSA. "Boomi serves as the stable foundation we need to ensure reliable system integration so we can continue to improve our services, and tailor them around the unique needs of South Australians."
AnglicareSA uses Boomi's integration platform as a service (iPaaS) to connect business-critical applications, including TechnologyOne enterprise resource planning (ERP), Salesforce Lumary, Rapid Global workforce management software, ELMO's human resources (HR) software, and Microsoft ActiveDirectory and SQL databases. Having upskilled through Boomi's training program, AnglicareSA's application team developed and now manages integrations internally, which has generated significant cost savings.
AnglicareSA selected Boomi to replace Microsoft Azure integration services, and in the process eliminated complex point-to-point integrations, which were proving difficult to maintain and support.
"The low-code architecture of the Boomi Platform has made integration at least 30 per cent faster and will allow us to quickly and easily scale our integration capabilities as more cloud applications enter the business," said Rowe. "Some projects that previously took more than a month are now completed in one week."
"Additionally, the maturity of the Boomi Platform gives us richer capabilities, and handling integrations internally means funds that would previously have been spent on support can be reinjected into our community services. Since we introduced Boomi in early 2023, we are more agile, responding to requests from the business and employees rapidly, sparing the team from manual data entry and resolving complex integration issues," added Rowe.
"In a sector where every detail matters, care programs' staff need to trust that the digital systems underpinning their businesses can accurately serve rich information," said Nathan Gower, Director, Australia and New Zealand at Boomi. "Switching to Boomi has helped AnglicareSA better understand the needs of its constituents and afforded its IT team the ability to move fast and leave complex integration behind."
Additional Resources
About Boomi
Boomi aims to make the world a better place by connecting everyone to everything, anywhere. The pioneer of cloud-based integration platform as a service (iPaaS), and now a category-leading, global software as a service (SaaS) company, Boomi touts the largest customer base among integration platform vendors and a worldwide network of approximately 800 partners – including Accenture, Capgemini, Deloitte, SAP, and Snowflake. Global organizations turn to Boomi's award-winning platform to discover, manage, and orchestrate data, while connecting applications, processes, and people for better, faster outcomes. For more information, visit http://boomi.com.
© 2023 Boomi, LP. Boomi, the 'B' logo, and Boomiverse are trademarks of Boomi, LP or its subsidiaries or affiliates. All rights reserved. Other names or marks may be the trademarks of their respective owners.
View source version on businesswire.com: https://www.businesswire.com/news/home/20230918877272/en/
Contact:
Media:
Jasmine Ee
Head of Media and Analyst Relations, APJ
jasmine.ee@boomi.com