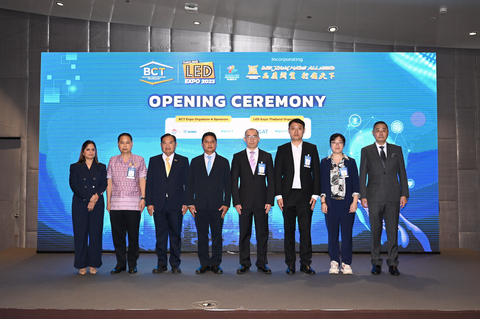 BANGKOK–(BUSINESS WIRE)–Sep. 27, 2023
On September 20th, the "2023 Zhejiang International Trade Exhibition (Thai)" hosted by the Zhejiang Provincial Department of Commerce opened grandly at the IMPACT Exhibition Center in Bangkok, Thailand. It continued until September 22nd.
This press release features multimedia. View the full release here: https://www.businesswire.com/news/home/20230926311548/en/
The Zhejiang International Trade Exhibition 2023 opens grandly in Thailand (Photo: Business Wire)
Mr. Petai Mudtham, Chief Inspector General, Ministry of Energy of Thailand; Mr. Zhou Xiqi, The first secretary in Economic and Commercial Counsellor's Office, Embassy of the People's Republic of China in the Kingdom of Thailand; Mr. Ekachai Prasong, Representative Department of Public Works and Town & Country Planning (DPT); and Mr. Somsak Prangthong, Director of Demand Side Management and Social Affairs The Electricity Generating Authority of Thailand (EGAT) attended the opening ceremony. The attending guests highly praised the highlight products and affirmed the brand image of "Quality Zhejiang Goods." Many press media have conducted interviews and reports on Zhejiang Provincial Department of Commerce and brand enterprises in Zhejiang.
This exhibition is a continuation of the last edition and fully combines Zhejiang's lighting, smart city, smart home and other related industries. It highlights the theme of "high-quality Zhejiang goods, marketing the world" and showcases developments in the Thai market. Zhejiang brand intelligent manufacturing enterprises, represented by Hikvision, Dahua, Yuzhong Gaohong, and Sky-lighting, are focused on showcasing innovative products involved in smart cities, highlighting the achievements of Zhejiang's traditional industries in the field of technological innovation.
Since the establishment of diplomatic ties between China and Thailand, especially a comprehensive strategic cooperative partnership between China and Thailand, the economic and trade cooperation between the two countries has been expanding. This year coincides with the tenth anniversary of the "the Belt and Road" initiative. Taking advantage of the trend of building a community of shared future between China and Thailand in a new era, the economic and trade cooperation between Zhejiang and Thailand has ushered in new opportunities. Zhejiang is a strong province in China's economy and a major province in foreign trade. After the epidemic, Zhejiang has continuously promoted the Zhejiang brand of "high-quality Zhejiang goods sold worldwide" in the Thai market. This year, enterprises from Zhejiang have been greatly welcomed by the Thai side. Thailand also hopes that Chinese and Thai entrepreneurs can make full use of the exhibition platform through the bridge built between the governments; have extensive contact, exchange industry information, and negotiate cooperation, in order to further seize business opportunities.
View source version on businesswire.com: https://www.businesswire.com/news/home/20230926311548/en/
Contact:
Media Contact: Ms. Robby Keshan, 011-46464830